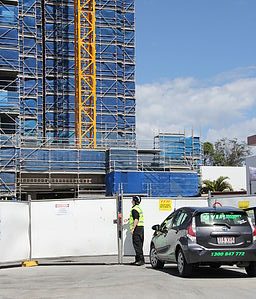 MINING, CONSTRUCTION AND INDUSTRIAL
We supply site security solutions to enforce your site access and safety requirements and work closely with your site Safety Officers, Project Managers and Site Supervisors/ Foremen to identify hazards and minimise risk for your workers, contractors and the public.
Development sites are a prime target for asset/copper theft and deliberate sabotage, the importance of competent access control to deter and catch trespassers is increasingly expected by the public and courts. 
We have experience in supplying static guards, K9 dog/handler units and dedicated patrols for construction projects across the Gold Coast and SE QLD. We understand the value you place onsafety and Zero Harm initiatives, and understand the damage to project scheduling and brand reputation caused by accidents and downtime due to subsequent investigations- even caused by after hours incidents.
VIP Security Construction Guards have appropriate PPE as required by your site risk assessments, and our own safety assessments including:
-AS/NZS 2210.5 steel cap footwear 
-Random drug and alcohol testing prior to shift start
-Hard hats to AS1801
-Customised high visibility jackets and vests
-Training including CPCOHS1001A "Construction White Card"
-UHF CB radio
-Site inductions
If your project site is large or you manage multiple sites, we can provide dedicated patrol guards with site-safe 4WD vehicles with GPS patrol tracking, night vision technology, trailer mounted CCTV hire, electronic camera traps and K9 units to protect your assets and reputation.