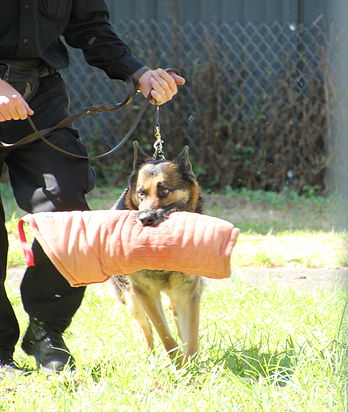 Tactical K9 Teams
Quite simply, the most efficient asset protection and access control you can get for large properties and a formidable opponent to intruders.
Our K9 units operate marked or unmarked vehicles and can be deployed to protect your premesis in high crime areas, or assist in staking out your property and apprehending repeat break and enter intruders.
Our patrol dogs are truely world class, live with their handlers, and work every night together.
VIP Security/ Vom Everest Patrol dogs have been sold to the Military for stud duties and active combat work in the Middle East.
Many are from imported parents, winners of international championships, and hold the highest rankings in Schutzhund and IPO.
Coupled with an experienced Security Dog Handler, in low profile uniforms, and with advanced USA-sourced thermal night vision equipment (similar to units used by the US Military and effective up to 3km away), intruders don't stand a chance.
Call our office for a confidential discussion on how we can implement these teams into your overall physical security plan.