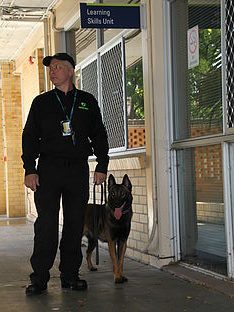 SCHOOLS & UNIVERSITIES
VIP Security Services has significant experience with school and campus security, apprehending thousands of trespassers since the companies' inception, saving schools hundreds of thousands of dollars in damage from vandalism, theft and arson.
We can supply at short notice experienced "blue card" approved plain clothes Security Officers or uniformed K9 units to patrol your school grounds during hours and provide access control in response to threats from potential offenders gaining access to children during school hours as well as providing immediate on-site response in the event of violence between staff and students. We have provided experienced crowd controllers for school breakups, fetes and fairs, and senior balls (and after-parties).
VIP Security has a dedicated schools patrol unit operating every night and weekend servicing schools across the Gold Coast. The K9 units perfom building lockups and checks and alarm responses and is a very effective security option for state and independent schools.
UNI-SAFE
Our UniSafe Officers are specially chosen to match the demographics of the student body. The goal of our Uni Safe team is to integrate and interact with the students as much as possible, building trust and mutual respect.
As a benefit of this community type approach, students feel safer on campus through a highly visible presence, and can trust the security department to help them in venerable personal distress situations. We can also provide bi-lingual staff during day shift for your international students.
Overnight when presence is required, we can deploy trained K9 dog and handler teams to protect campus assets and enforce rules and proactively focus on antisocial behaviour and noise complaints in common and accommodation areas.